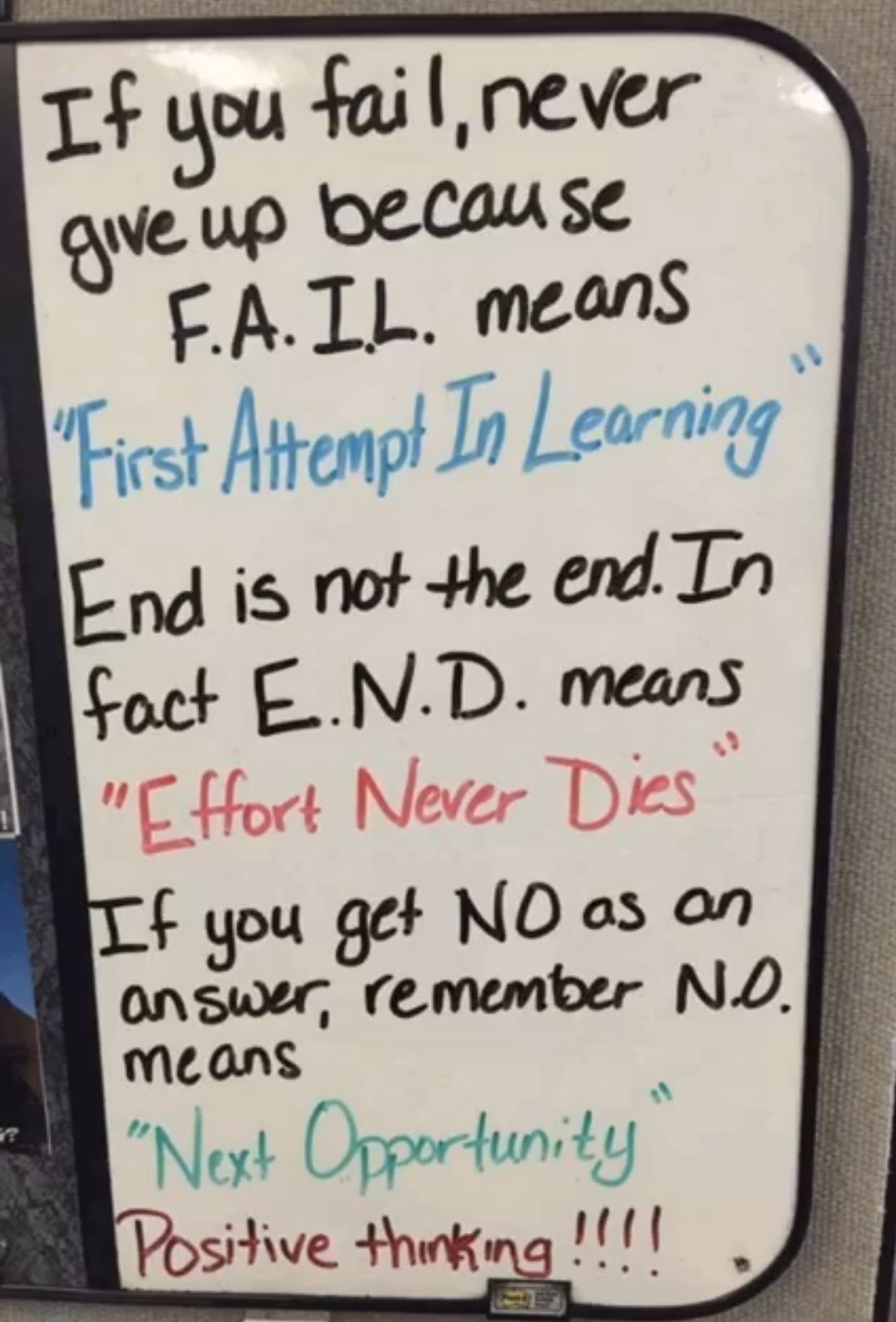 I find myself having this conversation with a lot of friends and family. The power of positive thinking is TREMENDOUS!
I once heard a quote that changed my thinking in a monumental way... "When you wake up every morning, you can't control your first thought, but you can ALWAYS control your second thought..." Your second thought should always be, "Today is going to be an amazing day!"
You see, a majority of our days rely largely on our mindset. If we wake up with a negative attitude towards life, we will have negative results. If you view your world as a negative place, anyone you interact with will feel the negativity.
I saw this picture last night and was compelled to share. (Pic above)
Failing is never a failure, it's one step closer to doing what you are supposed to be doing with your life!
Endless amounts of effort on your part will ensure that you continue your journey to conquer whatever it is you've set out to conquer. Your effort never dies with a positive outlook!
Nobody can do this for you. Your next opportunity is up to you. Can networking and surrounding yourself with likeminded individuals help in your pursuit of happiness? Sure! ... but nobody is going to come to your house, wake you up and make you realize your dreams!
Our world can be cruel and unusual. Our world could be a more beautiful place. There are circumstances that are out of our control, but choose to take advantage of the parts of your life that you can control and make it happen!
Positive thinking returns positive results! Nothing will change overnight… BUT…you should still take actions today that will change your tomorrow. Hate your job? Take the necessary steps to transition into what you desire! Sick of where you live? Set a goal with a date and work towards it!
I hope that if you're reading this it helps change your mindset. In case nobody has said this to you today, YOU are amazing! YOU can do whatever it is you set your mind to! I believe in YOU!
Make today and every day a great one!
Your Realtor,
Dan
#dandurante #stamfordct #stamford #greenwichct #greenwich #realtor #realestate #stamfordrealtor #stamfordrealestate #krg #kinardrealtygroup #whateverittakes #wit #someonegetmeasandwichplease